TOKYO- Japan Airlines (JL) and Sumitomo Corporation have announced their collaboration on a groundbreaking initiative, introducing the "Any Wear, Anywhere" clothing-sharing service aimed at foreign tourists and business travelers flying on JAL-operated flights to Japan.
The trial, scheduled to run from July 5, 2023, to August 31, 2024, seeks to measure the environmental impact of this innovative clothing rental service.
Japan Airlines to Provide Clothes on Rent
As global travel resumes after the COVID-19 pandemic, there is a rising emphasis on sustainable tourism. Travelers increasingly seek eco-friendly choices for their destinations, accommodations, and transportation.
However, a gap remains in sustainable clothing options, as most travelers still pack their own garments.
The "Any Wear, Anywhere" service aims to revolutionize travel by minimizing luggage and offering clothing rentals at the destination.
This approach will reduce the environmental footprint and promote a circular economy by utilizing excess apparel and pre-owned clothing stock. Sumitomo Corporation will oversee the reservation system, clothing procurement, laundering, and delivery.
At the same time, Japan Airlines will monitor changes in passengers' checked-in baggage weight to evaluate the reduction in carbon dioxide emissions due to the lighter aircraft.
How the Trial Works
During the trial period, interested individuals can visit the "Any Wear, Anywhere" reservation site at Anywearanywhere.store.
They can then select the appropriate clothing set for their trip based on the season and purpose of their visit to Japan. Reservations must be made at least one month in advance, and the return date should be within two weeks of pickup.
After booking a JAL-operated flight with less baggage, travelers can conveniently pick up and return the reserved clothing set at their hotel.
The initiative aligns with JAL's Vision 2030, focused on creating a "safe and secure society" and a "sustainable future."
The JAL Group aims to address social issues and foster sustainable flows of people and goods, positioning the "Any Wear, Anywhere" service as a significant element of its ESG (Environmental, Social, and Governance) strategy.
Sumitomo Corporation actively engages in businesses under the "Beyond Mobility" domain. Further, it is seeking to address social challenges and pursue cross-industry collaborations.
The "Any Wear, Anywhere" concept emerged from the company's "0 → 1 Challenge." It is an in-house entrepreneurship program, highlighting its commitment to adapt and create new value amidst global transformations.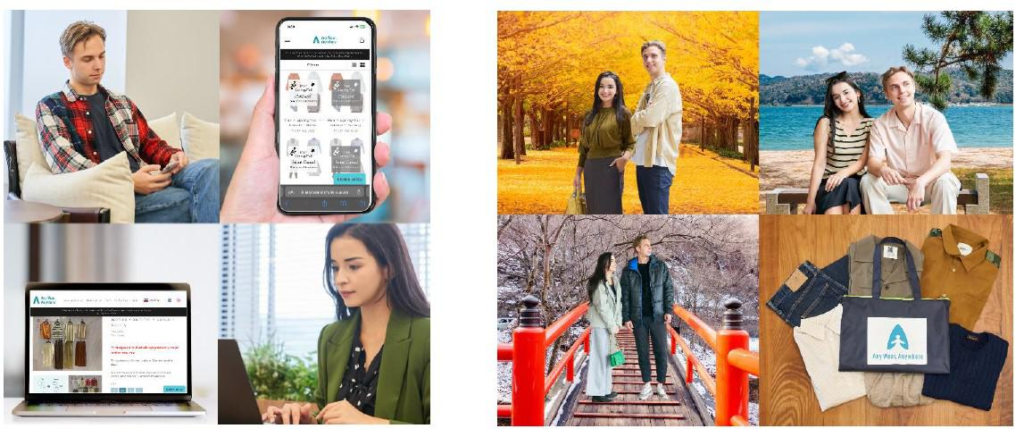 Collaborative Partners Supporting the Trial
The trial enjoys support from two key partners:
WEFABRIK Inc.: Founded by former textile trader employee Mr. Fukuya, WEFABRIK operates the "SMASELL" online apparel matching platform. With a mission to combat fashion waste and environmental problems, WEFABRIK is cooperating in the procurement of clothes available for rental through the "Any Wear, Anywhere" service.
Hakuyosha: As a pioneer in Japan's cleaning industry since 1906, Hakuyosha has a track record of providing high-quality services. While prioritizing environmental concerns. They will assist in the laundering and cleaning clothes available for rental during the trial.
By joining forces and exploring new avenues to meet customer needs, JAL and Sumitomo Corporation aim to create positive environmental impacts while delivering a seamless and sustainable travel experience.
The trial is a significant step towards transforming travel and business trips into more eco-friendly and enjoyable experiences.
Stay tuned with us. Further, follow us on social media for the latest updates.
Also Read: US Airlines, Including American, United, Delta, and Southwest, want you to Dress Properly – Aviation A2Z
Join us on Telegram Group for the Latest Aviation Updates. Subsequently, follow us on Google News.