India's low-cost carrier Go First (G8) has extended the suspension till May 9. The airline announced this in a notice on its social media platforms.
Go First Airlines wrote, "Go First regrets to inform its customers that all flights until May 9th, 2023, have been canceled due to operational reasons. We apologize for any inconvenience caused and kindly request our passengers to visit our website at https://bit.ly/42ab9la for further information. If you have any queries or concerns, please do not hesitate to contact us."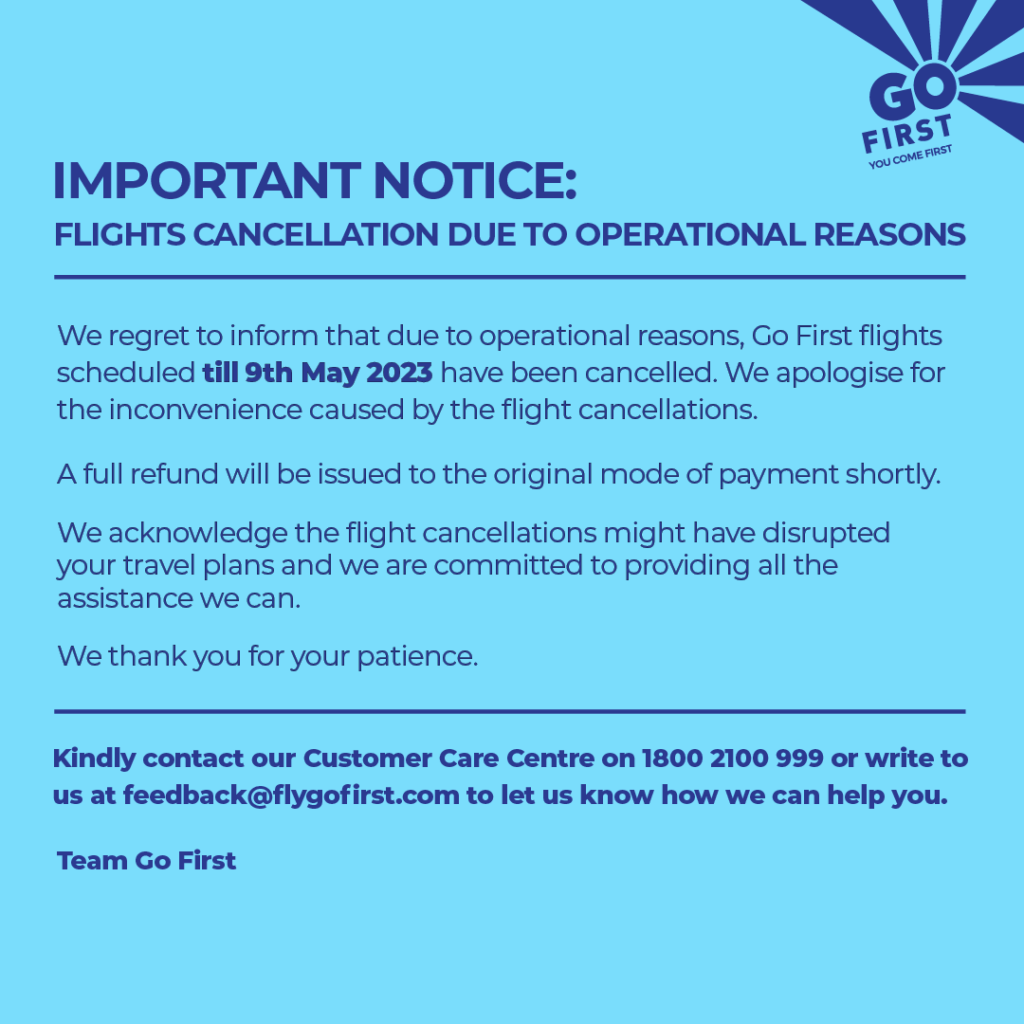 However, according to our sources, the staff are notified that the suspension will expend till May 15. Furthermore, it can extend further if they are not able to solve the problems with United States-based engine manufacturer Pratt and Whitney.
Go First and Pratt & Whitney Clash
In a statement, PW reiterated its commitment to its airline customers and its priority to meet delivery schedules for all customers.
The company also confirmed its compliance with the March 2023 arbitration ruling related to GoFirst, stating that it cannot provide any further comments on the matter as it is now under litigation.
GoFirst, which has 61 aircraft in its fleet, filed for bankruptcy under the Insolvency Bankruptcy Code (IBC). Citing the increasing number of failing engines supplied by PW. Resulting in the grounding of 25 aircraft (almost 50% of its Airbus A320neo aircraft fleet) as of May 1, 2023.
The airline claims that the groundings have resulted in the loss of revenue and incurred expenses of Rs 10,800 crore. Further, it is seeking Rs 8,000 crore as compensation from PW.
Bottom Line
Despite the challenges faced by Go First, the airline is considered to have a relatively clean operation and balance sheet. Unlike Jet Airways and SpiceJet, this could make it an attractive investment opportunity for serious investors.
In the past decade, there have been at least two occasions when foreign and Indian airlines were interested in buying a stake in Go First. But the promoter's asking price was too high, and the transaction did not happen.
Stay tuned with us. Further, follow us on social media for the latest updates.
Also, read FIRST LOOK: Air India Airlines New Possible Branding, Livery, Logo and More | Exclusive – Aviation A2Z
Join us on Telegram Group for Latest Aviation Updates. Subsequently, follow us on Google News.