Few days ago, the India's largest regional carrier Star Air posted a Job vacancy for Assistant Technician, there they invited freshers for walk in Interview, that actually turned out to be Fraud one. The airlines asked the candidates to sign a letter of undertaking which stated them to pay money for doing training.
Star Air Assistant Technician Job
One week back, the Star Air in its social media posted a Vacancy where it stated, they are conducting walk ins for Assistant technician Position. They also mentioned that this is the Job, and they want fresher candidates with 6 months of OJT Experience, which is mandatory for E part 8 AME Pass outs.
They wrote, "we are hiring Assistant Technicians. This is your sign to touch new horizons and scale the peak of success." Further they shared the details like date, time, venue and also shared a pic which clearly shows the Job details.
Here is the original Job pic,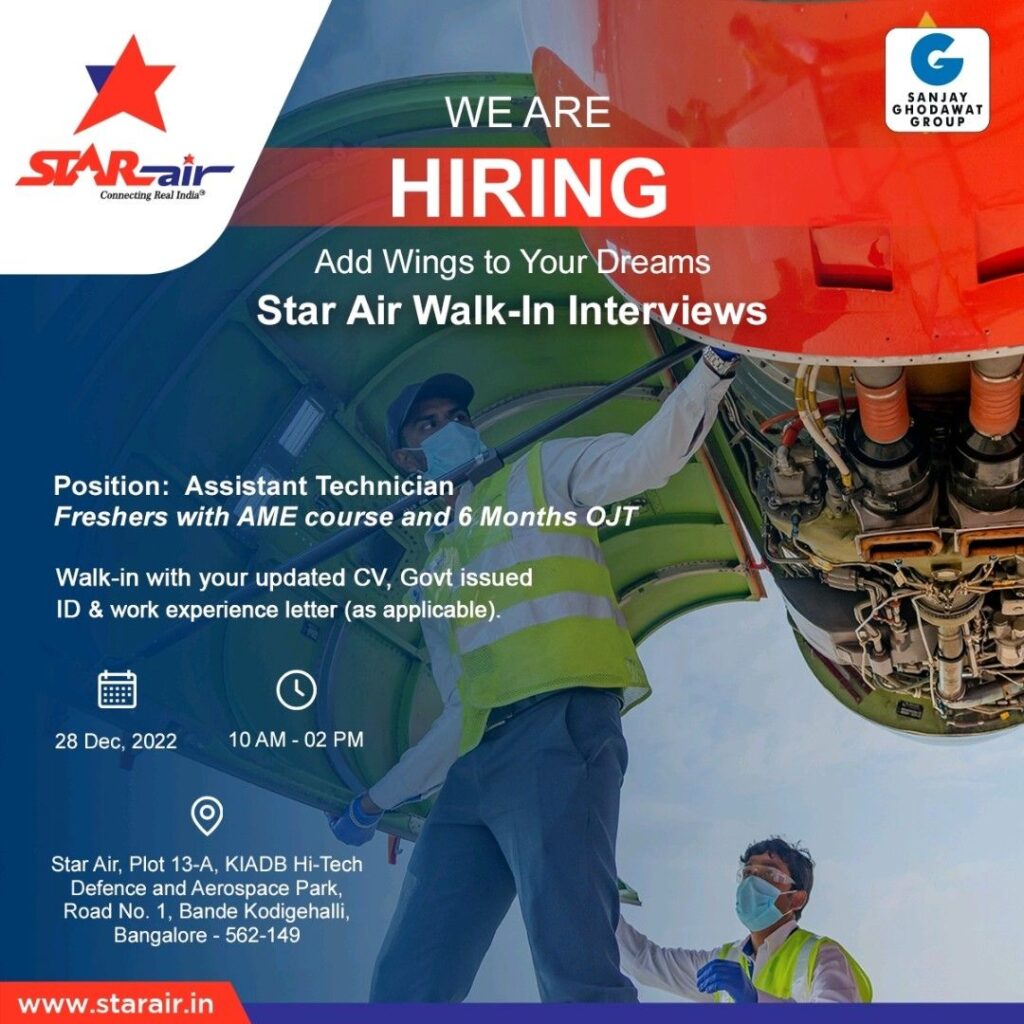 We also shared the details of job at our Job website, a2zaviationjobs.com as we thought its genuine and star air is reputed airline. We have helped many candidates get Job through our website so check it out.
Star Air Technician Fraud
According to one candidate who attended the Walk in, he stated in detail about the fraud that Star Air done with candidates.
He wrote, "Star Air HQ is so far 22Km from Main city. No public transport Access only Cab that too with a base price of 800 INR. Despite this many are from Corners of India. we were made to wait till 3 Pm from 9 Am. No instructions, No food; After that screening exam. Selected Students were surprised by this. Beware Connections! AME COURSE is highly money-eating, although having BAMEC+RTR NO SCOPE. Only those Lucky and who have Reference even with no Papers are absorbed. This is the Reality!"
After Hearing this I felt that we must aware candidates about the Reality.
In the letter of Undertaking, the airline stated that, the candidate must pay 1,00,000 or 1 Lakh rupees for enrolling in 1-year UNPAID Training. Yes, you have to pay for unpaid training, NO SALARY NO STIPEND!!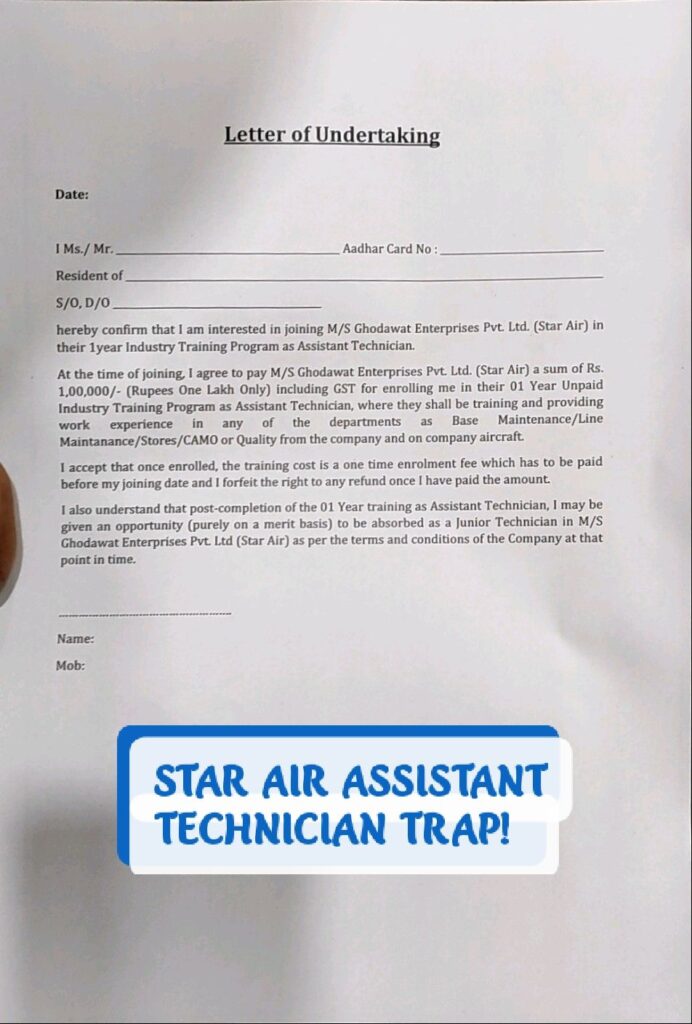 Reality of Indian Aviation Field
This is not the first time that airlines or MROs have asked for money just to give you a job. Not actually the Job, just a training where they make you to work like any other full-time employee but without any pay. This is intolerable as AME Candidates go through many adversities.
First, they are cheated by AME Colleges, who tell them about the growing opportunities, salary in lakhs and other false promises.
Then student pays fees in lakhs (avg 7-10 lakh for complete AME course) for a course which they have NO DEGREE OR NO GARDUATION, just a Certificate.
Also, the mandatory DGCA AME Module exam is not transparent and fair. Many candidates are force to pay 1500 to 3000 again for appearing in exam.
Later they are left alone as they pass out from colleges without JOB, DEGREE And LIMTED SCOPE.
So, choose the course properly as there are many such courses in Aviation with limited jobs.
Bottomline
So be aware of such vacancies and make sure not to pay such heavy amount just for training. Instead get apprenticeship from few airlines and MROs. Also make sure to ask airlines about the vacancy and about the Job role and then only go for walk In Interviews.
Thats it from us, do let us know what you think about the AME Course? in the comment section below.
We will keep you posted about the Aviation and such vacancies, so make sure you click on the bell icon.
Also Check Out, IndiGo Technician's Mass Sick Leave Continues at Delhi Airport | Exclusive & LIVE update – Aviation A2Z
Join Our Telegram Group for Latest Aviation Updates:-https://t.me/aviationa2z
Stay connected with Aviation a2z!