Digi Yatra to Achieve Contactless, Seamless Processing of travelers at Airports Based on Facial Recognition Technology
Union Minister for Civil Aviation Shri Jyotiraditya Scindia today launched Digi Yatra from the Indira Gandhi International Airport, New Delhi for 3 airports in the country, namely New Delhi, Varanasi, and Bengaluru. Digi Yatra is conceived to achieve contactless, seamless processing of passengers at airports based on Facial Recognition Technology (FRT).
Union Minister for Civil Aviation Shri Jyotiraditya Scindia
Speaking about the Digi Yatra project conceived by the Digi Yatra Foundation under the Union Minister for Civil Aviation Shri Jyotiraditya Scindia, the Minister stated that the project envisages a traveler today pass through various checkpoints at the airports through paperless and contactless processing operating facial features to launch her identity which could be linked to the boarding pass.
To operate this facility, one-time registration on the Digi Yatra app is needed using Aadhar-based validation and a self-image capture. The project has tremendous advantages of improving passenger convenience and ease of journey.
About the privacy features of the project, the Aviation Minister stated that keeping in mind privacy, there is no main storage of Personally Identifiable Information (PII).  The passenger's ID and travel credentials are stored in a secure wallet on the passenger's smartphone itself. The uploaded data will utilize blockchain technology and all the data will be purged from the servers within 24 hours of use.
With Digi Yatra, India will now stand in the ranks of world-class airports like Heathrow in London and Atlanta in the United States of America. Elucidating on the benefits of Digi Yatra, the Minister said the example of Dubai Airport where passenger time of up to 40 percent was saved due to this technology.
Also, read
A similar technology saved 9 minutes per aircraft time at the Atlanta Airport. The Minister also stated that compared to other ports of call, the Indian system has been made far more seamless from entry to exit and therefore will be 1 of the most efficient systems in the world.
Digi Yatra in the 1st phase will be launched at seven airports
However, it has been initially launched at three airports i.e., Delhi, Bengaluru, and Varanasi today, to be followed by four airports namely Hyderabad, Kolkata, Pune, and Vijayawada by March 2023.
Later it would be implemented across various airports in the country. The service is presently being announced for domestic flight passengers only. Digi Yatra App is available on both IoS and Android. It is voluntary in nature.
Union Minister for Civil Aviation Shri Jyotiraditya Scindia | Aviationa2z.com
Here is all you need to know about this service announce today!
What is DigiYatra?
An initiative taken by the Aviation Ministry and Bureau of Civil Aviation Security, DigiYatra seeks to simplify the verification process and reduce paperwork. It is a Biometric Enabled Seamless Travel experience (BEST), which relies on facial recognition technology to make your airport experience smooth and seamless. At present, the service is only available for domestic travelers.
To operate this facility, you must 1st register at the DigiYatra app. It will act as a decentralized mobile-based ID management platform where your travel documents will be saved digitally. With the technology, your entry at all checkpoints, including the airport, security checks, and aircraft boarding, will be automated based on facial recognition.
Prime Minister Narendra Modi
The DigiYatra service is in line with Prime Minister Narendra Modi's vision of making India a digitally empowered nation and attempts to minimize paperwork. It seeks to facilitate the e-boarding process for airport entry and boarding flights to ensure a hassle-free travel experience. 
What are the benefits of using Digiyatra?
1. Hassle-free travel:
At the DigiYatra platform, all your trip and identification documents will be stored digitally. So, when going through different checkpoints, you won't require to physically present your papers. The bots will approve your entry by scanning your face.
2. Reduced waiting time:
The technology will make the boarding process significantly faster and more seamless, as you will need less than three seconds at every touchpoint. Thus, the DigiYatra service will reduce passengers' waiting time.
3. Enhanced Security:
The launch of DigiYatra will ensure enhanced security at the airport as the passenger data will be validated with Airlines Departure Control System. This way, only designated travelers will be permitted to enter the terminal. 
4. Dedicated Gates:
Passengers using the DigiYatra app will be given entry through dedicated gates. So, you won't require to stand in never-ending queues and wait for your turn.
5. Face recognition technology:
For air passengers availing of this facility, their face will act as their documents, ID proof, and boarding pass. The tech will rely on the latest face-recognition feature to enhance your travel experience.
6. Contactless:
Although at present, Covid-19 seems to be under management, we never know about the future. Thus, the announcement of the DigiYatra service is a step in the right direction, as it will reduce the requirement for physical contact.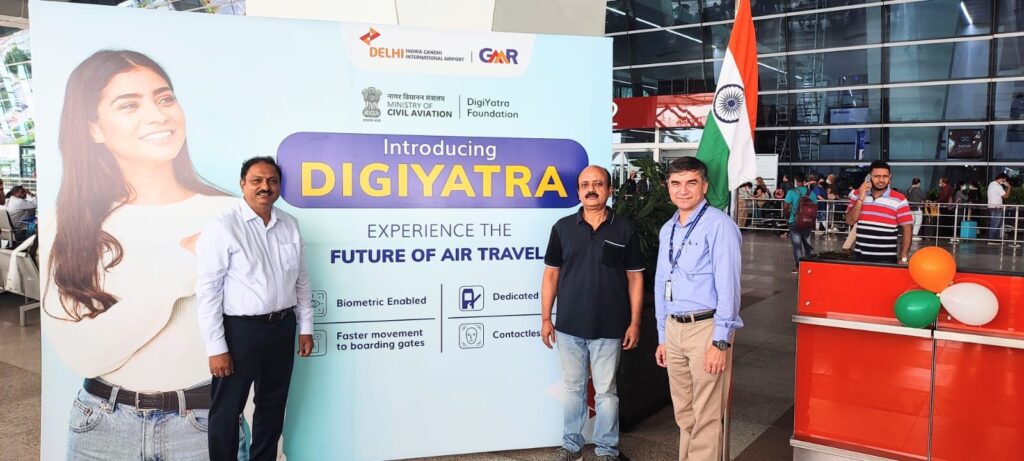 What is the enrollment process for using DigiYatra?
Download the DigiYatra app from the Play Store (Android) or App store (iOS). 
To register with the platform, operate the OTP sent to your Aadhar-linked mobile number.
Upload your Aadhar verified identification credentials using Digilocker or Offline Aadhar. 
On being prompted, take a selfie and upload it on the platform. Make sure it is clear and has no obstructions.
Next, update your travel details by uploading your boarding pass on the DigiYatra app.
Once you have completed all these steps, your registration process is complete. Now, you can skip the queue and save time by following these steps:
Thank you
Stay updated with Aviationa2z.com and Google News