On 17th August, an Angara Airlines Antonov An-24 was damaged in a botched landing at Ust-Kut Airport in Russia. The aircraft was landing in inclement weather conditions.
The Antonov An-24 with registration RA-47848 was landing as flight 95 from Irkutsk Airport. A total of 48 people, including 4 crew members and 44 passengers were on board the passenger flight.
During landing, the left-hand wing tip sustained severe damage and the nose landing gear had folded. Besides, the damage, the landing went well. Therefore, no one was injured in the incident, as reported by the authorities.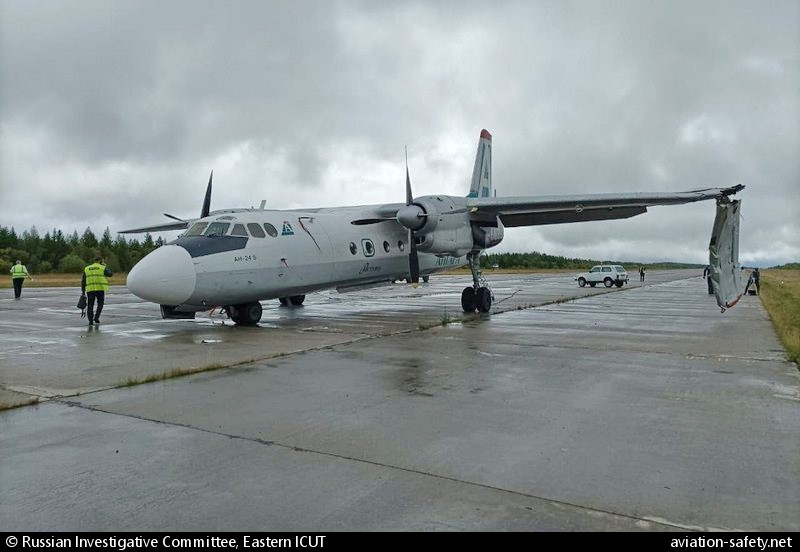 The incident is being investigated by the Bratsk Investigation Department for Transport of the Eastern ICUT of the Russian Investigative Committee. The aircraft reportedly rolled out of the runway and its left wing touched the ground.
The incident was confirmed by the press services of the Eastern MSUT of the Investigative Committee of Russia and the East Siberian Transport Prosecutor's Office.
About Angara Air
Ankara Airlines was established back in 2000 and it operates on behalf of its proprietor, the Irkut Corporation aircraft repair factory.
It operates out of base airfields in Irkutsk and Novosibirsk. The carrier heavily flies in the Siberian region alongside other regions in the Russian Federation. Besides, Angara Airlines also offers duty transportation, personality transportation and freight and correspondence services.
The Russian airline has a fleet of 22 aircraft including 2 Antonov An-2s, 6 Antonov An-24RVs, 3 Antonov An-26-100s and 11 Mil Mi-8 helicopters. In July 2017, Angara Air had inked a letter of intent for 3 Irkut MC-21-300s at the MAKS Air Show that took place in Moscow. These aircraft were initially listed to be delivered from 2022 to 2025 when the order was placed. However, these new jets haven't been delivered yet.
Image Source: Russian Investigative Committee, Eastern ICUT