Vistara, India's best full-service airline, today announced a more than 100% increase in frequencies to/from Frankfurt and Paris, as it prepares to receive its third recently leased Boeing 787-9 Dreamliner aircraft.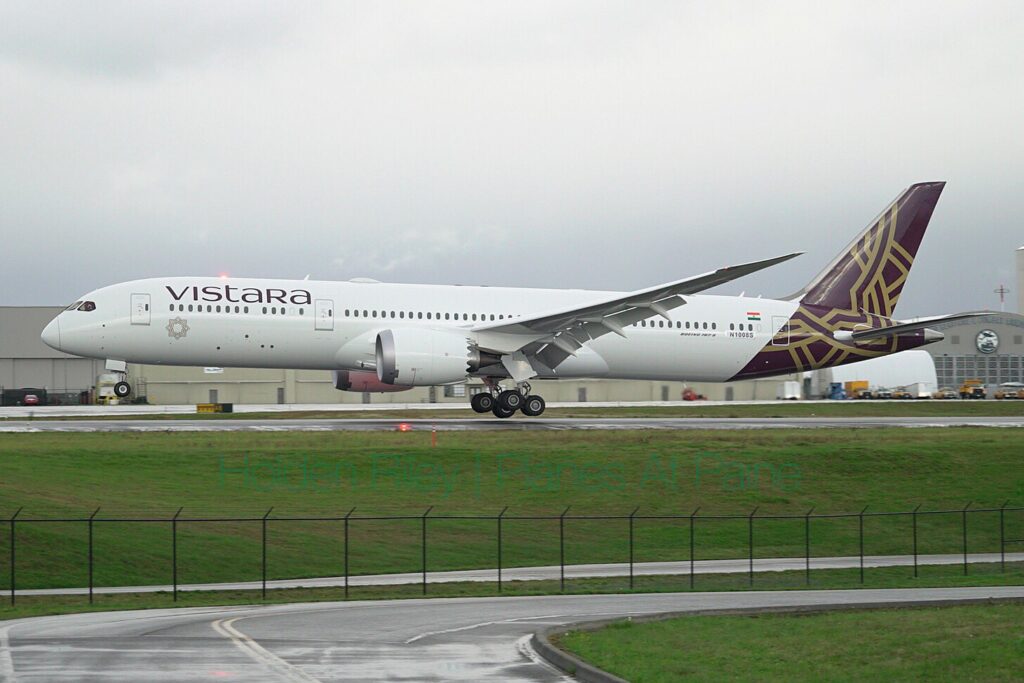 With effect from October 30, 2022, Vistara will increase the number of flights between Delhi and Frankfurt from three to six per week, while flights between Delhi and Paris would increase from two to five per week. Today, Vistara began selling these extra flights through all available channels, including its website, mobile app, OTAs, and other travel agencies.
Deepak Rajawat, Chief Commercial Officer of Vistara said
"Europe has been a critical priority area for us from the very beginning, and we are pleased that our clients value our capabilities on these long-haul flights"
We are excited to finally be able to increase frequencies on these sectors, which we have been hoping to accomplish.
Along with expanding its other domestic and international routes, the airline increased frequency on a number of foreign routes, including Delhi-London and Mumbai-Singapore, to daily flights in May 2022. Earlier this week, Vistara launched service on the Mumbai-Bangkok route as well as between Mumbai and Jeddah.
The Boeing 787-9 Dreamliner is a state-of-the-art aircraft with features that make for a superior flying experience.
All 3 cabin classes in the Boeing 787-9 Dreamliner are equipped with human centric lighting that helps you to relax and reduce jet lag. The dimmable windows in the aircraft ensure you have a comfortable journey.
The Boeing 787-9 Dreamliner is equipped with cabin features such as:
Business Class
44" seat pitch with a full flatbed with 76" length
Personal stowage compartment
AC and USB power outlet
18" HD personal entertainment screen with a video handset
Seat ambient lighting
India's only Premium Economy
38" seat pitch
13" HD personal entertainment screen
6-way headrest
Calf and footrest
AC and USB power outlet
Economy Class
31" seat pitch
12" HD personal entertainment screen
6-way headrest
USB power outlet
Customers have an option between Business, Premium Economy, and Economy seats when flying on Vistara's Boeing 787-9 Dreamliner. Additionally, the new aircraft will have a distinct Premium Economy cabin, totally flat business class seats, and direct aisle access in each seat. A variety of additional amenities are meticulously incorporated into each of the three cabins to demonstrate Vistara's commitment to provide an unrivalled flying experience. These feature High Definition (HD) Display in-seat screens in all three cabins that offer a state-of-the-art Panasonic in-flight entertainment system.
In addition to receiving praise for its clean cabins and good safety standards, Vistara is the airline with the top ratings in India on Skytrax and TripAdvisor. Since it began operating only seven years ago, Vistara has quickly raised the bar for performance and customer service standards in the Indian aviation sector. It has since surpassed the 35 million passenger mark and has become the nation's most adored airline.
Also read:
Akasa Air Reveals First Look of Ground Crew New Uniform | Here is Everything you need to know
Join our telegram group for latest Aviation Updates:-
Stay