Akasa Air is India's newest airline and is taking off in the summer of 22 with the greenest and youngest fleet in India.
The airline shared the news that they have received the Air Operator Certificate (AOC).
Akasa Air CEO on AOC
The grant of the AOC is the final step of a comprehensive and rigorous process laid down by the DGCA.
Following the government's initiative to usher in a new era of digitization, Airline is proud to be the first airline whose end-to-end AOC process was conducted using the government's progressive eGCA digital platform.
The process concluded with the airline has successfully conducted a number of proving flights under the supervision of the country's aviation regulator.
Commenting on the significant milestone, Vinay Dube, Founder, and Chief Executive Officer, Akasa Airlines said
We are extremely thankful to the Ministry of Civil Aviation and the DGCA for their constructive guidance, active support and the highest levels of efficiency throughout the AOC process. We now look forward to opening our flights for sale, leading to the start of commercial operations by late July. This will begin our journey towards building India's greenest, most dependable, and most affordable airline

Vinay Dube, Founder, and Chief Executive Officer, Akasa Air
https://www.linkedin.com/embed/feed/update/urn:li:share:6951469394090680320
Fleet Update
To lease Five Boeing 737 Aircrafts the Airline has partnered with Griffin Global Asset Management,
a commercial aircraft leasing and alternative asset management business with offices in Dublin, Ireland, Puerto Rico, and Los Angeles, USA.
Griffin Global Asset Management also posted Boeing 737-8 Max Plane on their Twitter account on 9th June
The Airline inked a contract with Boeing on November 26, 2021, to purchase 72 Max jets.
Akasa Air Uniform Introduction
The upcoming Indian Carrier Akasa Airline Revealed its Airline Crew Uniform on Monday.
Uniform is accompanied by a youthful and modern design, with colors that reflect the warm, friendly, and cheerful personality.
It Becomes the first airline to introduce Custom Wear for its airline crew uniform.
Akasa Air's Test Flight
According to Flight Radar 24, Akasa Air is conducting Test Flight From Delhi to Mumbai.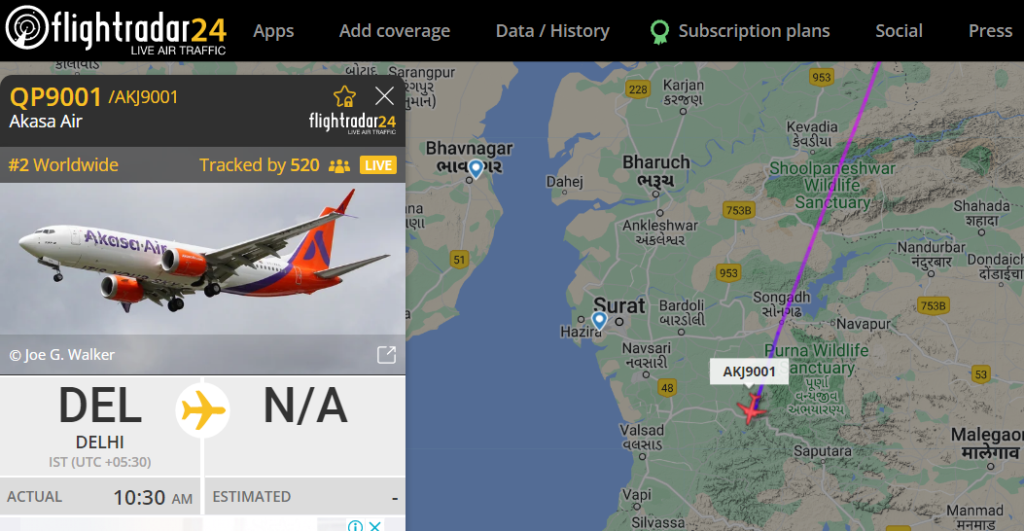 The Flight Took from Indira Gandhi International Airport at 10:30 Am on Monday Morning.
We will keep you posted about all the Akasa Airlines-related updates, make sure you click on the notification bell.
Stay connected with Aviation a2z!
Check Out :Exclusive: Akasa Air Reveals its Flight Crew Uniforms | First Airline to do so in India? – Aviation A2Z
Check out this post:- On track to receive the first 737 Max plane by mid-June, launch commercial operations by July
Join Our Telegram group for Latest Aviation Updates:-https://t.me/aviationa2z