MONTREAL- Emirates (EK), the renowned airline, successfully landed in Montreal, Quebec, marking the commencement of its scheduled services to its second gateway in Canada.
Operating a Boeing 777 aircraft, Emirates now offers premium passenger services on its daily flights to the city, further strengthening its presence in Canada. With this addition, Emirates now operates a total of 14 flights per week in Canada.
Emirates arrives in Quebec's cultural capital Montreal
The flight, numbered EK243, arrived at Montréal Pierre Elliot Trudeau International Airport at 0830hrs local time on July 5.
The touchdown was greeted by a procession of follow-me vehicles, with airport officials, aviation authorities, aviation enthusiasts, and media eagerly capturing the historic moment.
A welcome ceremony took place, accompanied by a symbolic gift exchange between Emirates, airport officials, and Montréal's tourism board.
Subsequently, Emirates showcased its Boeing 777-300ER aircraft, featuring a three-class configuration, to government representatives, media personnel, guests, and members of the travel trade industry.
The aircraft boasts eight private suites in First Class, 42 lie-flat seats in Business Class, and 304 spacious seats in Economy Class, offering a comfortable travel experience.
Emphasizing the significance of the new destination, Adnan Kazim, Emirates' Chief Commercial Officer, expressed his excitement about launching the service to Montréal.
He extended gratitude to the UAE and Canadian authorities and partners for their support, anticipating a positive impact on tourism, business, and trade between the two countries.
Kazim highlighted the increased travel options for customers, mentioning the healthy bookings received from various regions such as the UAE, India, Iran, Lebanon, the Far East, and Africa.
He emphasized the exceptional travel experience Emirates provides and expressed enthusiasm for welcoming passengers onboard to enjoy the "fly better" proposition across all classes.
Airport CEO Welcomes Emirates' Arrival
Philippe Rainville, President, and Chief Executive Officer of ADM Aéroports de Montréal, expressed delight in welcoming one of the world's most prestigious airlines to Montréal.
Rainville emphasized the exceptional opportunity for passengers to experience the Emirates service on a nonstop flight to Dubai.
He further highlighted the convenience of arrivals and departures at less busy times of the day. Subsequently, aligning with the airport's goal of offering more connections to popular destinations outside peak travel times.
Rainville acknowledged the privilege of Montréal being chosen as the second Canadian airport for Emirates' operations in the country.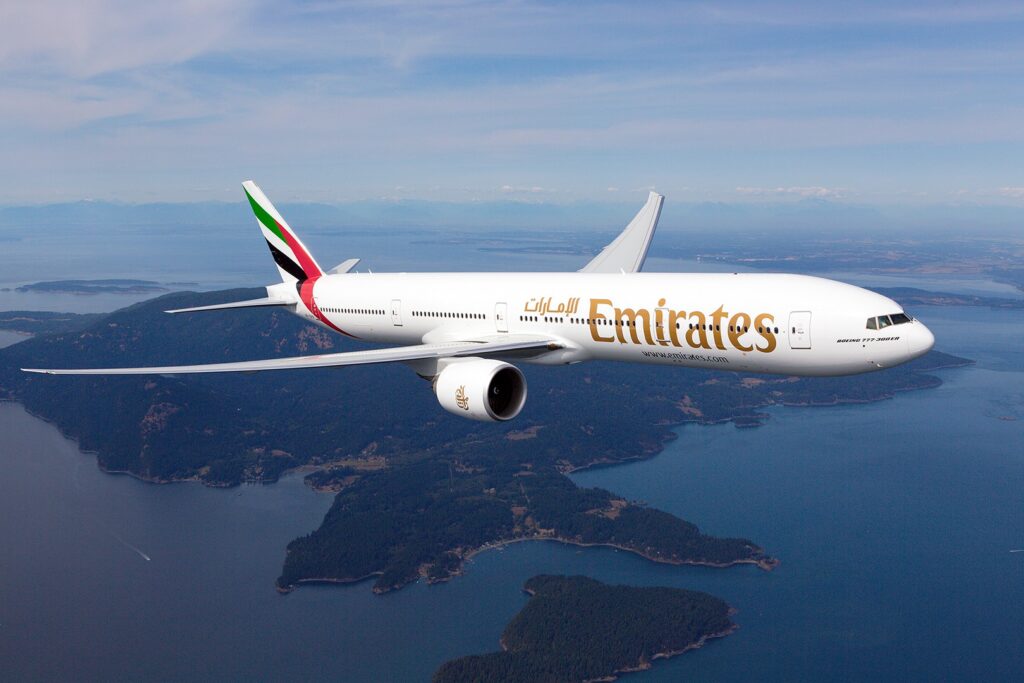 Flight Details and Network Expansion
Emirates' flights to and from Montréal operate as EK243 and EK244. The daily flight departs Dubai International Airport at 02:30hrs and arrives in Montréal at 08:00hrs local time.
The return flight departs Montréal Pierre Elliot Trudeau International Airport at 10:20hrs and reaches Dubai at 06:30hrs (local time) the following day.
This new daily service to Montréal complements Emirates' existing seven weekly services to Toronto, further expanding the airline's North American network.
Emirates now serves a total of 14 destinations in North America and 18 across the Americas, providing convenient access to Dubai and connections to popular destinations such as Lebanon, India, Iran, Vietnam, and Malaysia.
Yves Lalumière, President and CEO of Tourisme Montréal, expressed excitement about the new direct flight. He highlighted its significance in expanding the city's air network and reinforcing its position as a leading tourist destination.
Lalumière extended gratitude to Emirates for making Montréal more accessible to travelers worldwide. He invited them to discover the city's rich culture, diverse gastronomy, and vibrant festivals.
Emirates' strategic partnership with Air Canada provides customers access to an extensive network of destinations.
Emirates customers can reach 19 Canadian destinations beyond Toronto through their codeshare relationship. While Air Canada (AC) customers can access 17 cities in Africa, the Indian subcontinent, the Middle East, and the Far East beyond Dubai.
Furthermore, Emirates passengers can choose from over 140 routes operated by Air Canada on an interline basis. Further simplifying travel itineraries on a single ticket. Emirates Skywards members can earn and redeem miles on eligible Air Canada flights.
Superior Inflight Experience and Ground Services
Emirates offers a range of amenities to enhance the travel experience for its customers. Premium-class passengers and select Skywards members can enjoy luxurious lounges at Dubai International Airport before their flights.
Chauffeur drive services are available for First Class and Business Class customers in Dubai and Montréal.
Emirates' commitment to providing superior comfort and services continues onboard. Passengers can indulge in regionally-inspired dining and world-class entertainment throughout their journey.
On flights between Dubai and Montréal, travelers can savor Canadian breakfast specialties. This includes pancakes with berry or cherry compote, maple syrup, and other toppings. Further French toast served with berry compote and maple syrup.
Emirates' award-winning inflight entertainment system, ice, offers a vast selection of over 6,500 channels of on-demand entertainment in multiple languages.
Passengers can choose from a collection of more than 2,000 movies, 650 TV shows, and 4,000 hours of music, podcasts, and audiobooks.
To celebrate the journey to Montréal, ice features Montréal-themed entertainment. This includes stand-up comedy specials from Just for Laughs and albums from renowned Canadian artists. Further, the documentaries explore the lives and work of celebrated Canadian musicians like Celine Dion.
The UAE is Canada's largest export market in the Middle East and North Africa. The bilateral trade between the two countries exceeding C$2.6 billion in 2022.
Canada is also a significant source market for inbound tourism to Dubai, with over 158,000 Canadian visitors in 2022. Additionally, Emirates plays a crucial role in facilitating the movement of goods between the UAE and Canada through its cargo services.
Discovering Montreal Charms with Emirates
Montréal captivates travelers with its captivating blend of modern city style and old European charm. Further, visitors can explore the iconic Notre Dame Basilica of Montréal and nearby museums to delve into the city's history.
The Montréal Museum of Fine Arts and the Phi Centre offer cultural experiences, while street performances and major festivals add to the vibrant atmosphere.
For those seeking shopping delights, Rue Sainte-Catherine beckons with chic boutiques and malls adorned with vibrant street art in the Plateau Mont-Royal neighborhood.
Food lovers can indulge in Montréal's culinary delights. This includes its famous bagels, poutine, and a range of international cuisines.
With the launch of daily services to Montréal, Emirates opens up new horizons for travelers. Thereupon connecting them to the wonders of this captivating Canadian city and beyond.
Stay tuned with us. Further, follow us on social media for the latest updates.
Also Read: US Airlines, Including American, United, Delta, and Southwest, want you to Dress Properly – Aviation A2Z
Join us on Telegram Group for the Latest Aviation Updates. Subsequently, follow us on Google News.