Rolls Royce- Jet-engine maker's single-seat, electric-powered propellor plane, Spirit of Innovation, smashed the zero-emission speed record, hitting a top speed of nearly 556 kilometers per hour (345 mph) over a distance of three kilometers—and even maxed out at 623 km/h. Now comes the hard part: turning what they learned into a business.
Rolls Royce beginning to smash the record:
When Rolls-Royce set out three years ago to build the world's fastest electric aircraft—teaming up with two U.K. firms: the Daimler-owned automotive supplier YASA, and aerospace engineering startup Electroflight—it actually had something else in mind entirely: gaining ground in the buzzy market for electric aviation.
Fast-forward to today, and the 115-year-old British engineering firm is making progress towards that goal. The company, which supplies the jet engines for the Boeing 787 Dreamliner and the Airbus 350, is on the hook to deliver two electric aviation propulsion systems in the very near future: one for an electric vertical take-off and landing (eVTOL) vehicle that will carry up to four passengers in 2024, and another for a small commuter plane with Nordic regional airline Widerøe.
"Our focus at the moment is on urban air mobility: the eVTOL market with four to six passengers where we see viable product around 2025 and 2026," Spirit of Innovation head Matheu Parr told Fortune.
"A market just behind that we call regional air mobility that would be fixed wing aircraft with nine to 19 seats. And within that range we believe you can look at all-electric and hybrid-electric aircraft in 2028 to 2030."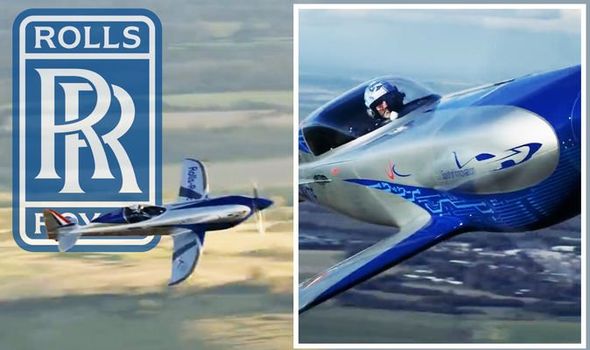 Success assured by no means – Rolls Royce
Success of those projects is by no means assured.For one thing, there's the regulatory hurdle. Air taxis (they also go by the name of electric vertical takeoff and landing vehicles, or eVTOLs) zipping around urban centers remains an untested and unregulated space. This sector is new ground for Rolls. They have decades of expertise designing and building massive kerosene-burning jet engines. Electric aviation, however, will require an engineering skill set that's new to the company, and much of the industry. In this way, getting the Spirit of Innovation, such a small plane, off the ground was a big proof point for the company. (It did so with the help of partners, and 50% funding from the U.K. government.)But chief among Rolls-Royce's roadblocks is something much more basic: the lack of an established electric aviation supply chain—that is, a lack of parts.
Zero emission system
To that end, Rolls-Royce hopes to develop a complete portfolio of zero-emission power systems that can be used in urban air taxis and small aircraft. This would not only cover electric motors, but power electronics that manage and direct the electricity, onboard wiring system, and batteries for an energy source. Crucially there also needs to be a sufficient supply of aftermarket parts, a network for customer support, as well as training to service the aircraft.
It hasn't been smooth flying so far. Rolls-Royce struggled simply to procure the off-the-shelf battery cells it needed to complete last month's historic flight. For help, Rolls-Royce has turned to the very sector that gave birth to the company before the two went separate ways in the post-war period: the automotive industry. Rolls got out of the business of making cars in the 1990s to focus on aviation, defense, and power systems.Thanks to the ingenuity of engineers poached from the Formula E racing circuit as well as the UK's "Bloodhound" Land Speed project, it succeeded in smashing the previous electric flight speed record just using off-the-shelf EV battery cells it was able to procure in sufficient quantity from companies like Panasonic.
"One of the reasons we wanted to do this was to get immersed in that ecosystem, understand who the key players are. And hopefully convince them of the opportunities of moving into the aerospace market." said Parr, who is customer business director at Rolls-Royce.

He cited the recent spin-off of YASA's Evolito as evidence that automotive companies are increasingly considering expanding their footprint into aviation.
Also previous record
Rolls-Royce will invest £80 million ($105 million) over the next decade to develop its electric flight business. This follows the 2019 acquisition of Siemens eAircraft, which held the previous speed record.
There's a lot on the line. Aviation is responsible for about 915 million tonnes of CO2 worldwide, or about 12% of transport-related emissions, according to industry association ATAG. It is however one of the hardest sectors to abate: the vast majority of CO2 pumped into the atmosphere derives from flights longer than 1,500 km, for which there is no realistic green air-transport alternative, Rolls-Royce acknowledges—at least not until 2050.
"When it comes to bigger aircraft like regional planes seating up to 80, we think there are real benefits with hybrid electric propulsion. You just cannot go all electric. Since you cannot get enough batteries on board," Parr explained.
Automotive Industry as model
Turning to the automotive sector is not all that surprising, given the former's relative big headstart in decarbonizing operations. The auto industry itself overcame a similar lack of a supply chain for key EV parts not long ago. In any event, there's a lot of borrowing going on in the travel sector.
After deciding in late 2015 to develop its first electric vehicle, engineers at Volkswagen Group performance brand Porsche enlisted the help of the rail industry due to their expertise with high voltage systems more powerful than the 800-volt electrical system found in the Taycan EV.
Aviation and auto parts are not interchangeable, however part of the problem of substituting combustion-powered flight with electricity is physics.
Tesla CEO Elon Musk estimates zero-emission flight will only become commercially attractive when battery cells as a packaged single unit (including connectors and control units) can offer on average 400-watt-hours per kilogram, a significant leap from the kind of wattage electric cars pack. Nevertheless, these levels for aviation are not possible with today's technology.
More on this
"Batteries are not yet on par with jet fuel in terms of energy density, but they are sufficient for up to 100 nautical miles, a far enough range to enable air taxi services for suburban and metropolitan destinations," Parr said.
"To fly four to six passengers that distance, our math says, you need battery packs that are about 200-220 Wh/kg," Parr estimated.
"If you want to go 200 nautical miles—where we start talking about fixed wing aircraft—you kind of end up at [Musk's] numbers once reserves are included," Parr said.
That's a considerabe increase over the Spirit of Innovation's own 165 Wh/kg battery pack, but the Rolls manager says his team had to rely on mass produced cells already available in 2018 for use in electric vehicles.
"A lot of work is already going on in our supply chain to identify where our cells are going to come from in the future," Parr explained.

"We're already testing prototype cells from manufacturers today that hit our 2025 commercial goals when packed."
High Altitude short Circuit -Rolls Royce
The low-pressure environment prevailing at cruising altitudes degrades the electrical resistance of insulating material. Coupled with water condensation forming at temperatures, the risk increases over time that the wiring could short circuit, triggering an onboard fire.
"Rolls-Royce spent a lot of time investigating these (altitude) effects with the previous E-Fan X program together with Airbus, and we think we have a really strong body of knowledge how we're going to manage those going forward," Parr said.
By comparison, former partner Airbus has taken the opposite route.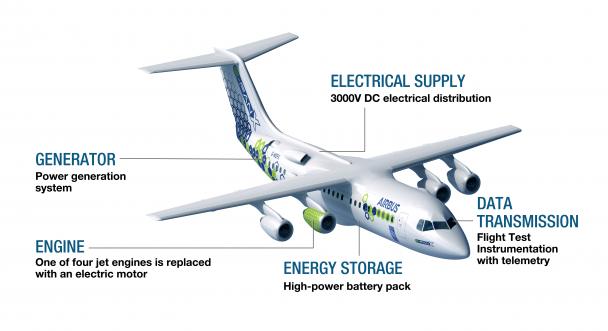 April 2020- Airbus route
In April 2020, it effectively abandoned further pursuit of electric flight for its passenger airplanes following its involvement E-Fan X project.
Instead, it announced a half year later it would bring a hydrogen-powered aircraft into service in. 2035, what the manufacturer called "tomorrow" due to the aerospace industry's long lead times.
For the company, that's a good thing, given it accounted for roughly .42% of its 11.8 billion pounds in annual group revenue last year.
While the company has said "the journey to net zero will create significant business opportunities", the jet engine manufacturer believes entirely new technologies will not likely play a significant role in decarbonizing the sector prior to 2050.
Read also: Air India disinvestment : Union moves Madras HC on employees' Welfare.
Always stay informed with us and have a wonderful day ahead!