Blink and read the next sentence, a Boeing 737 aircraft takes off again! Everything aviators must know about the most flown narrow body aircraft on Earth!
For nearly half of the entire history of commercial aviation, long-haul flights have conjured up images of large, wide-bodied aircraft, with two aisles, up to 10 seats in every row, spacious overhead bins and, more recently, shiny on-demand tablet-style entertainment systems.
A 737 either takes off or lands every 5.5 seconds somewhere in the world!
That's in sharp contrast to smaller narrow-bodied aircraft, with their single aisles, six seats per row and, generally, less space and comfort.
The 737 has flown more than 119 billion miles.
---
---
The People's all-time-favourite aircraft
The Boeing 737 is a narrow-body airliner produced by Boeing at its Renton Factory in Washington. Developed to supplement the Boeing 727 on short and thin routes, the twinjet retains the 707 fuselage cross-section and nose with two underwing turbofans.
Envisioned in 1964, the initial 737-100 made its first flight in April 1967 and entered service in February 1968 with Lufthansa.
The lengthened 737-200 entered service in April 1968.
It evolved through four generations, offering several variants for 85 to 215 passengers.
History of Long hauls
Before the Boeing 747 started carrying passengers in 1970, narrow-bodies were the standard for long-haul air travel, although their definition of "long haul" wasn't quite what we know today.
The early Boeing 707s you might remember from that "Pan Am" TV show nearly 10 years ago, say, could barely make it from London or Paris to New York without needing to refuel, often at Gander in Newfoundland, although they were faster and quieter than anything seen before.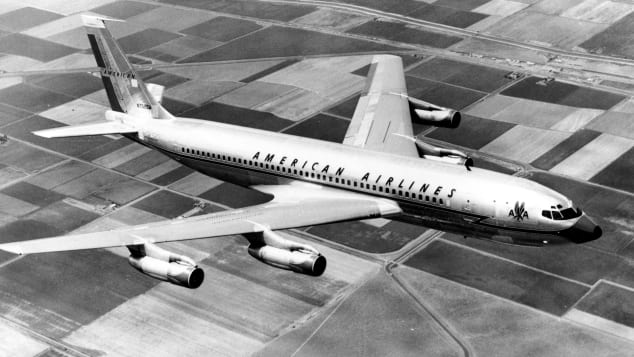 On the outside, these jets are more similar to what we're flying on today. And, they will fly on tomorrow — than you might think.
Even the shape of the nose and the size of the fuselage of Boeing's 737 airplanes, the world's best-selling aircraft, are taken directly from the 1950s Boeing 707.
Ben Orson
On the inside, meanwhile, while he "never had the opportunity to fly on a 707," aircraft interior designer Ben Orson, managing director of Orson Associates, tells-
"It's clear that the new generation of single-aisle aircraft benefit from decades of interiors optimization, which has delivered significant improvements in terms of weight, environmental comfort factors — cabin pressure, lighting and so on — space efficiency across seating, linings and bins and lavatory and galley integration."
Nurturing passenger comfort
That's certainly a long and technical list, but it all means more space and more amenities for you, the passenger. And if passenger experience has come a long way, so have the airplanes — and their capabilities.
Latest Generation of narrow-body
There are three planes in the latest generation of narrow-body aircraft, with the latest engines.
The first is Airbus' A220, formerly the Bombardier CSeries, which is the smallest of the lot.
The second is Boeing's 737 MAX, an update of its venerable 737, although its low-slung design means its engine size is constrained compared with the others, so it's not truly a long-haul machine.
Competition is tough
The third is the real player: the Airbus A321XLR, the most recent member of the A321neo family, an updated version of Airbus' short-haul workhorse with new internal fuel tanks.
The A321XLR can fly far as those early 707s and more than half again: up to 4,700 nautical miles, or around 10 hours — something like the distance from Florida to the UK, or from Beijing to France.
It's a sea change and it harkens back to the start of the jet age in 1958, when the Boeing 707 first started flying — at nearly the speed of sound, across the oceans, landing to refuel every four or five hours.
Travel was very different back then
People dressed up, whether flying in first class or in coach. Luggage was checked into the hold, because overhead bins hadn't been invented yet.
Instead, there was the hat rack, a literal shelf above passengers' heads for light items only. The overhead bins of today are still a pain point for passengers, and it's one that today's aircraft manufacturers are working on.
In today's world
"Once only possible with larger aircraft, a single aisle long haul will open a world of new routes with all the trappings of long-haul cabin comfort," Airbus' head of single-aisle marketing Antonio Da Costa explained a lot time ago.
"While today's planes have on-demand, high-definition video and fast WiFi Internet, inflight entertainment has only been around since the 1960s, with the now-defunct TWA the first to introduce films for everyone on board, projected onto screens in each section of the aircraft.''
Individual headsets — which were pneumatic, literally pushing sound through the air via tubes to passengers' ears.
These were brought on board in the same decade.
And lasted into the early 2000s on older aircraft.
A common sight at the time was children leaning their heads against the armrest to hear the audio crackling tinnily from the sockets.
This was only if their parents declined to pay to rent the headphones.
Technical Specs
| | 737 MAX 7 | 737 MAX 8 | 737 MAX 9 | 737 MAX 10 |
| --- | --- | --- | --- | --- |
| Seats (2-class) | 138 – 153 | 162 – 178 | 178 – 193 | 188 – 204 |
| Maximum seats | 172 | 210 | 220 | 230 |
| Range nm (km) | 3,850 (7,130) | 3,550 (6,570) | 3,550 (6,570)* | 3,300 (6,110)* |
| Length | 35.56 m (116 ft 8 in) | 39.52 m (129 ft 8 in) | 42.16 m (138 ft 4 in) | 43.8 m (143 ft 8 in) |
| Wingspan | 35.9 m (117 ft 10 in) | 35.9 m (117 ft 10 in) | 35.9 m (117 ft 10 in) | 35.9 m (117 ft 10 in) |
| Engine | LEAP-1B from CFM International | LEAP-1B from CFM International | LEAP-1B from CFM International | LEAP-1B from CFM International |
| | | 210 seats: 737-8-200 | *one auxiliary tank | *one auxiliary tank |
The 737 MAX models | @a2zblog.in
The series dominators
737-800
Hapag-Lloyd received the first 737-800 in April 1998.
The Boeing 737-800 was a stretched version of the 737-700 launched on September 5, 1994. The -800 seats 162 passengers in a two-class or 189 passengers in a high-density, one-class layout. Launch customer Hapag-Lloyd Flug (now TUIfly) received the first one in April 1998.
The -800 replaced directly the -400 and aging 727-200 of US airlines. It filled also the gap left by Boeing's decision to discontinue the MD-80 and MD-90 aircraft, following Boeing's merger with McDonnell Douglas.
The 737-800 is the most widely used narrow body aircraft and competes primarily with the Airbus A320.
737 NG (third generation)
The Boeing 737 Next Generation, abbreviated as 737 Next Gen or 737NG, is the name given to the main models 737-600/700/800/900 series and the extended range -700ER/900ER variants of the Boeing 737 family.
It has been produced since 1996 and introduced in 1997, with a total order of 7,097 aircraft, of which 7,031 have been delivered as of May 2019.
Things you never knew about the 737!
Development of the first Boeing 737 began in 1964
It took engineers three years to build the first ever 737. The Boeing 737-100 had its first flight in April of 1967 and officially went into service the following February.
Lufthansa was the first airline to put this aircraft into their regular rotation.
The 737 is the best-selling commercial jetliner in history
Though this may not seem like much of a surprise, the numbers associated with the 737 are pretty amazing.
As of 2017, Boeing received more than 14,000 orders for the different types of the 737. Nearly 10,000 of those aircraft were delivered to customers while the remaining are nearing the delivery stage.
The next time you fly, there's a good chance you will be on a 737.
It takes about 50 gallons of paint to paint the typical 737
That's a lot of paint! Once it dries, the aircraft will weigh approximately 90,000 pounds. For comparison, that's about as heavy as nine elephants.
The 737 has flown more than 119 billion miles
It's virtually impossible to fathom that kind of distance. But you can think of it as equivalent to approximately 640 round trips from the earth to the sun. As the travel industry continues to gain steam, passengers will still rely heavily on the 737.
The 737 has carried nearly 17 billion passengers
This truly is an astonishing fact. As of 2017, World Bank confirmed a world population of 7.53 billion.
So the fact that the 737 aircraft has carried more than double that number is mind-boggling.
There are about 1,000 737s in the air at once
Have you ever been on a flight and wondered how many other planes were in the sky at that time?
Well, on average, there are about 1,000 737 aircraft in the air at once. Not only does this statistic speak to the popularity of the 737, but also the importance of air traffic control and experienced pilots.
A 737 either takes off or lands every 5.5 seconds somewhere in the world
In about the time it takes you to read this sentence, a 737 has either taken off or landed in some part of the world.
This is yet another statistic that shows the importance of the aviation industry as a whole.
It shouldn't come as a surprise that travelers rely on the Boeing 737 more than any other aircraft.
Ten thousand 737s stacked on top of one another would be more than 400,000 feet high
That equates to 77 miles high! As a reference point, the shortest distance between earth and space is about 62 miles. Unfortunately, we aren't yet to the point where 737s can fly into outer space!
The 737 was the first aircraft in the world with CFM 56 Turbofan engines
Wondering what makes CFM 56 Turbofan engines so important?
Well, because of their high bypass ratio and the fact that they burn much less fuel than a regular jet engine, they are the most common engines in commercial aviation today.
The 737 helped push Boeing to build the largest factory in the world
When your business is building commercial aircraft, it only makes sense to have a huge manufacturing space. It's safe to say the Boeing factory dwarfs what most people would consider large buildings.
For those wondering, this factory has a volume of 472 million cubic feet.
---
Information Source: Wikipedia, Aivatorsworld
---
Also read- Largest Domestic Carrier: Indigo sees Rs. 2700 crore loss in June Quarter
Also read- Jhunjhunwala ready to touch the sky with a new airline plan!
Thank You
Stay safe and connected.
Keep following us for the latest updates.